Supporting the Acorn Appeal Food Bank Drive
Back

Featured News
/
2 Categories
Clarendon Academy
Community Ambassadors
April 8th 2022
To support our local community over the Easter Break, Clarendon Academy took part in the Acorn Appeal Food Bank Drive.
Acorn Education Trust recognised that demand for food bank support, has been steadily increasing within their local school communities, mirroring the nationwide trend noted by The Trussell Trust; one of the UK's largest food bank charities.
In order to support pupils, their families and members of the wider community during these challenging times, the Trust launched The Acorn Appeal Food Bank Drive. The purpose of this appeal was to collect food, clothing and toiletry donations to support the food banks, located closest to each of the Trust's twelve schools, over the Easter Break (a time when demand has historically increased).
Led by our Community Ambassadors Isaac, Carys, Maya and Isla, The Clarendon Academy school community rose to the occasion spectacularly to support Storehouse Trowbridge. Mr McCarthy said, "We know the Clarendon Academy staff, students and their parents care deeply for our town, as shown by the volume of donations we've received, and hope that our collection will help those in need."
In the last week of term, we received a truly incredible amount of donations from pupils, their families, staff and the wider community (as seen in the photo below) and have been reliably informed that it was 'the most collected by an Acorn School' in support of the Appeal to date!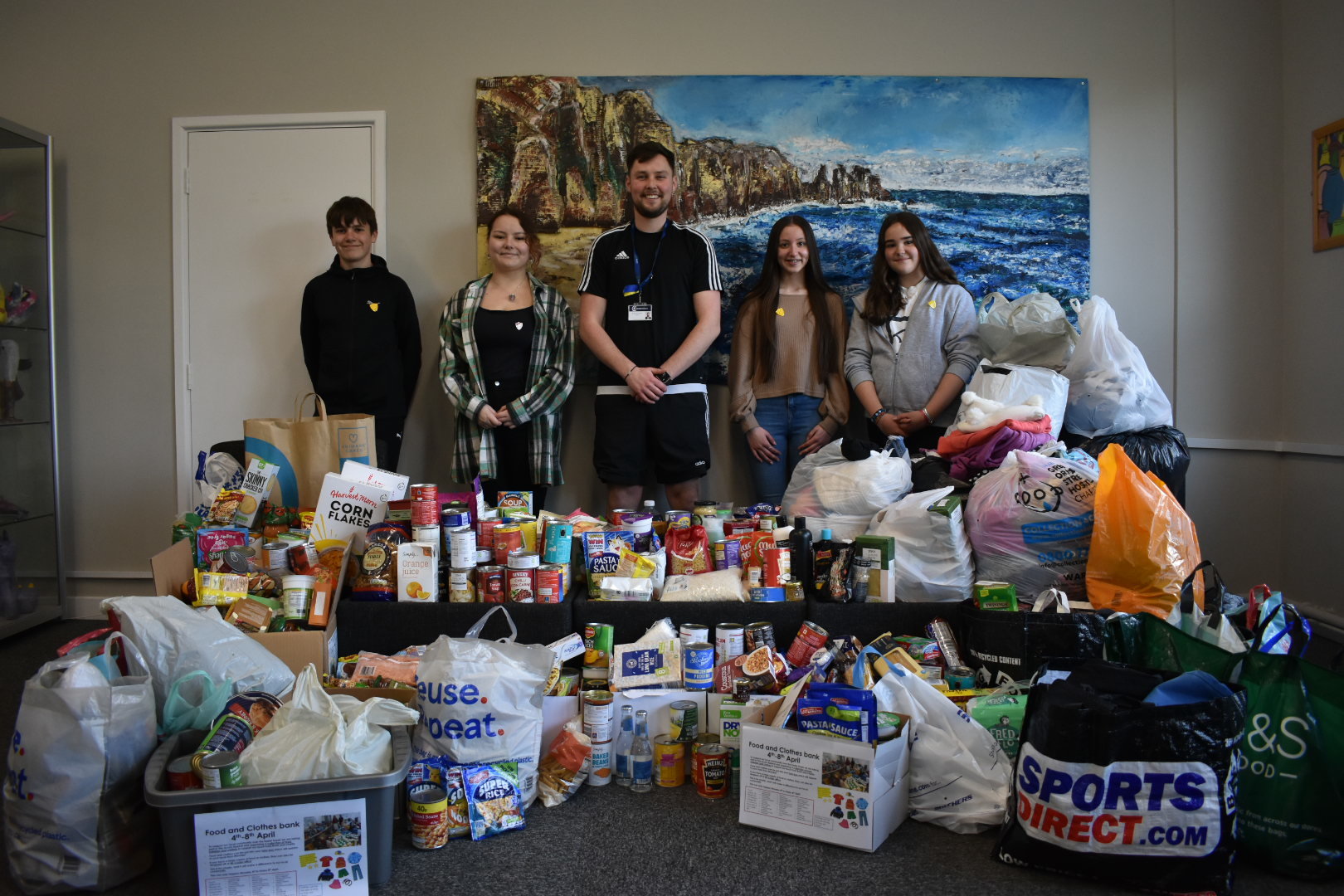 Community Ambassadord Isaac, Carys, Maya and Isla with Mr McCarthy and the donations collected by Clarendon Academy
Isla added to this by saying she was, "Really pleased with how much has been donated by the school community in such a short period of time".
Maya commented that she was, "Impressed with the turn out and happy that the Appeal is going to benefit so many people in the local community."
Isaac was, "Very proud of the school and everything we've achieved. Thank you to everyone who donated."
Carys, lead Prefect for the Acorn Appeal Food Bank Drive at Clarendon Academy, said she was, "Really impressed with the Community Ambassadors' hard work and dedication." She was also looking forward to the Community Ambassadors finding new ways to continue to support our local community.
Our Community Ambassadors and Mr McCarthy helped load the donations into an Acorn Education Trust van on Friday afternoon, to be taken directly to Storehouse Trowbridge. We'd like to say a massive thank you for the very generous donations to the Acorn Appeal Food Bank Drive.
Clarendon Academy – Student Ambassadors Isaac, Carys, Maya and Isla, and Mr McCarthy with the very generous donations from the Clarendon Academy (Trowbridge) school community
---