About Acorn Education Trust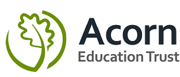 The Acorn Education Trust was formed in August 2014 to create a local solution to a national strategy. Through close collaboration and a shared vision we believe each school will achieve great things while retaining their individual identity. Underpinning this close collaboration is a strong belief in our core purpose.
Our Vision
"Preparing young people for their world in their time"
Across the Acorn Education Trust, 600 staff work to achieve the very best outcomes for more than 3,950 pupils.
---
Please click this link to visit the ACORN Trust website
ACORN Trust Annual Reports and Accounts
Please click this link to read information about the annual reports and accounts
Acorn Education Trust
c/o Kingdown School
Warminster
Wiltshire
BA12 9DR